HPC business breakfast with Zemgale SME's
Did you know that Jelgava is an innovative company that destroys weeds with a special machine trained on a supercomputer?
Today, the opportunities for SME's to use the resources of supercomputing or High-Performance Computing (HPC), are impressive, but not everyone knows how to use them. On October 26, Latvian HPC competence Centre "SuperS" invites entrepreneurs to a business breakfast in Jelgava, where we will tell them how to increase the competitiveness of enterprises in the local and international market using a supercomputer.
At HPC Business breakfast, we'll tell why supercomputers allow you to improve your job efficiency and reduce the resources you use, and how supercomputers open up the opportunity to train artificial intelligence assistants (like ChatGPT).
Entrepreneurs will also have the opportunity to learn about the support offered by European Digital Innovation Centres to attract funding for digitalization projects.
Conduct of the event – in person. Working language – Latvian.
To participate, please register in advance with the https://bit.ly/HPCbiznesa_brokastis.
Number of seats is limited. Membership – free.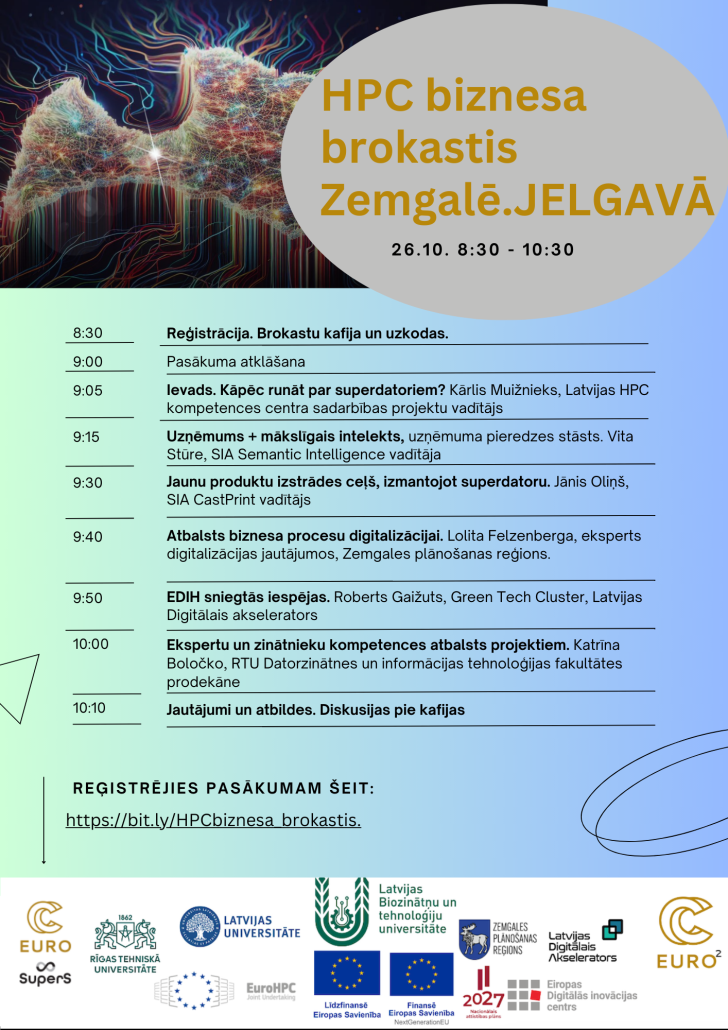 The business breakfast in Zemgale in the five regional events cycle is organised by the HPC competence Centre in Latvia "SuperS" within the framework of the EuroCC 2 project "National Centers of Competence within EuroHPC" (EuroCC 2) in co-operation with the Digital contact point for entrepreneurs of the Zemgale planning region, Digital Accelerator of Latvia, Zemgale Planning Region, RTU HPC Centre and the LU Institute of Numerical Modelling.