Workshop on advantages of open-source platforms for the use of HPC
We invite you to improve your knowledge about the advantages of various open-source platforms on November 24 and 25. Those interested in the workshop will be introduced to the experience of Latvia, Estonia, and Sweden in using open-source platforms, which are especially important for more convenient and straightforward work with HPC.
The first day of the workshop (November 24) will be dedicated to infrastructure maintainers, including HPC. The focus will be on the research infrastructure platform Waldur and practical research infrastructure cooperation in the Baltic, Scandinavian, and European Union regions.  Nonetheless, colleagues from Estonia will share their experience in user support for working with HPC, including working with one of the large supercomputers in Finland – LUMI.  The day's program will be concluded by Latvian experience – an initiative of the IT services center for educational and scientific institutions.
The second day of the seminar (November 25) will be dedicated to HPC users and teaching staff. For the HPC users, will demonstrate the latest advancements of RTU's HPC cluster –  open-source HPC platform Waldur. For academic personnel, it will be useful to find out more about JupyterHub – a recently added platform for easier access to HPC in the study process. The workshop will be concluded by our colleagues from Sweden, sharing experiences with ColonyOS – open-source project to orchestrate AI/ML workloads across heterogeneous computing platforms.
Please register first to participate in the event due to the limited number of places. Admission is free of charge. The event will take place at Mercure Riga Centre Hotel (Elizabetes Street 101, Rīga, LV-1050).
Agenda: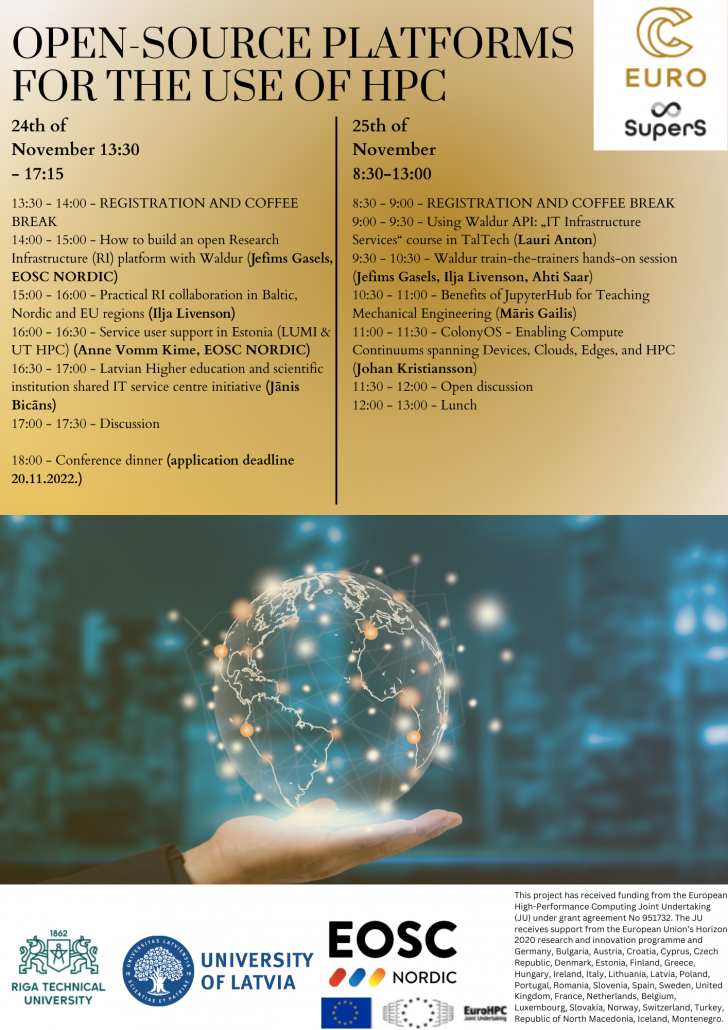 The scientific workshop has been organized by HPC Competence Centre in Latvia "SuperS" within the EuroHPC project EuroCC in collaboration with Riga Technical University's HPC Centre and the Institute of Numerical Modeling at University of Latvia. The event is also supported by the EOSC-Nordic project.
For more information, please contact: info@eurocc-latvia.lv.